Introduction to chute feeder:
The equipment made by the famous chute feeder supplier of Fote can transport the bulk and particle materials from the storage bin to different receiving devices. Our company is regarded as the well known mining machinery manufacturer with the most reasonable China chute feeder price in the market.

Features of chute feeder:
1. The chute feeder can be installed on the ground surface or lifted at the unloading port of the storage bin.
2. The bottom chute plate does the reciprocating motion with the stroke frequency of 20-60 time/min and the stroke length of 20-200mm. The stroke length can be adjusted by the eccentric wheel of the driving device and the eccentric distance is half of the stroke length.
3. According to practices of some ore beneficiation plants, the eccentric distance should be less than 300mm for the sticky materials and the chute width of the chute feeder should be 2-2.5 times of the maximum particle size.
4. The largest chute feeder can finish the feeding process of the iron ore with the particle size smaller than 500mm. The most commonly used equipment is the 980*1240 chute feeder with the feeding particle of 350-0mm which works as the feeding device of the 400*600 jaw crusher.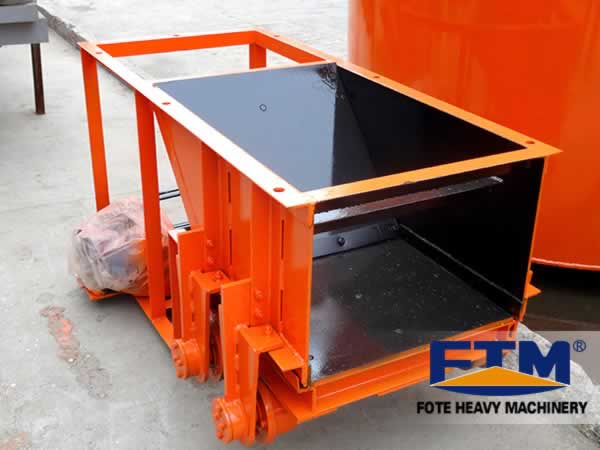 Applied Materials of chute feeder:
Chute feeder is applied to short-distance transport of metals, non-metallic materials and so on. Chute feeder is widely used in metallurgical, chemical, coal, mining and hydroelectric projects and other departments. It conveys block and granulated material from storage silos and sent to a variety of different devices.